Wrought Iron Fence Contractor Hutchinson KS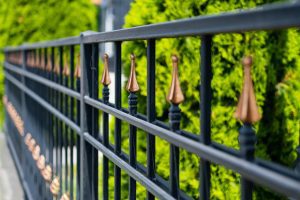 If you're looking for an experienced wrought iron fence contractor to handle your wrought iron fence sales and installation, contact Hutchinson Fence & Deck Company today! Wrought Iron Fencing is beautiful, elegant, and sturdy enough to last a lifetime. Wrought Iron Fencing is a premium fencing material that manufactured according to the very highest standards of quality. All of our wrought iron fencing is powder treated to protect against the harmful effects of the weather, and it stands up wonderfully to all the elements we experience here in Hutchinson.
A wrought iron fence is a great option for estates, government facilities, parks, sports facilities, churches, and commercial property that seeks a secure fence that is beautiful to look at while creating a very sturdy and secure barrier.
Wrought Iron Fencing Installed Nickerson, Haven, Inman
While Vinyl Fencing or a composite deck will last around 50 years, a good wrought iron fence can literally last for centuries. There are still wrought iron fences standing that were installed back in the 1700s at many locations around the globe. Wrought Iron is a premium fencing material because once it's installed, you will never have to replace it or install another fence barring some kind of major accident or disaster. Wrought iron fencing is built to last.
Iron Fence Contractors Medora, Yoder, Darlow
At Hutchinson Fence & Deck Company, we understand how important your wrought iron fencing project is to you and we make it our goal to leave every customer we work with 100% satisfied with our job performance.
Get a Free Quote today at 620-798-4455
You may also fill out the Free Quote form on this website, and we will get your squared away to get an up-front price on your new Iron Fence installation in Kansas today!