Composite Deck Builder Hutchinson KS
Composite Decking is a great option for customers seeking a beautiful deck surface that is relatively maintenance free. Composite decks offer some advantages over wood. Since Composite Decks are a synthetic product, the harmful effects of UV are mitigated. Composite decking will not attract pests, and cleanup is a snap. Usually a pressured water hose is all you need to remove dirt and algae. With composite decking, there is no need for staining and sealing services, and you can count on your deck to last the rest of your life.
The only complaint we hear about composite decking is the price - you will pay more for a composite deck installation than a cedar deck installation simply because the material cost is greater. Composite Decks also have a tendency to get hot in the sun. If your deck is going to receive direct sunlight, that may be a factor you want to consider if you plan on using your deck often during the hottest portion of the day. Some customer like to include a shade structure like a pergola or awning over their composite deck when it is going to be in direct sunlight.
Trex Composite Deck Builder South Hutchinson, Partridge, Darlow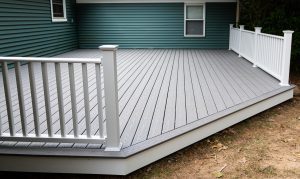 Hutchinson Fence & Deck Company is pleased to install Composite Decking from leading manufacturers. If you're looking for an excellent Deck Builder in Hutchinson to install a new Composite Deck on your property, give our friendly builders a call at 620-798-4455
Hutchinson Fence & Deck Company is pleased to install composite decking from Trex, TruOrganics, Veranda, Fiberon, NewTechWood, Azek, Barrette Siesta, Fortress and more!
Composite Decking Installed Buhler, Nickerson, Sterling
Customers taking advantage of our services for composite decks are afforded to the excellent customer service that Hutchinson Fence & Deck Company is known for. Being a local, family-owned and operated deck company in Hutchinson is very rewarding mainly because of the trail of happy customers behind us. When you hire Hutchinson Fence & Deck to build a new deck for you in Huthinson, Arlington, Burrton, Haven, Inman or the surrounding areas in Kansas, rest assured you're hiring a great local contractor that will take care of your project from start to finish.
Do you have an existing deck that needs to be replaced with a new composite deck? Our crews will demolish and remove material from your old deck, build your new one, and clean up the site when we're done. You'll be free to enjoy your brand new composite deck in Hutchinson for years to come.
Quality Vinyl Decking, PVC Decks, Synthetic Deck Installations
If we can help you with a Free Quote on a new composite deck from Hutchinson Fence & Deck Company, please give our friendly deck builder in Hutchinson a call at 620-798-4455
You may also fill out the Free Quote form on this website, and we will get back in touch with you shortly.