Cedar Privacy Fence Installation in Kansas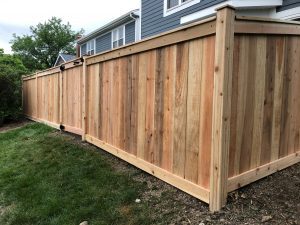 At Hutchinson Fence & Deck Company we love cedar fences! Cedar fencing is beautiful to look at, sturdy, and will last over twenty years with proper care. Cedar fencing is a popular option for customers in Hutchinson seeking privacy fencing for their home or commercial property. A nice cedar privacy fence adds a layer of security to your home keeping intruders out and pets and children in. Enjoy peace of mind knowing your property is secure, and let your kids play in the privacy of your backyard without having to worry about prying eyes.
Wood Fence Builder Hutchinson, Willowbrook, Castleton
A beautiful cedar fence goes up fairly quickly. Once we get you on the schedule, our installers are typically done with a project in a day or two. While your fence will go up quickly, it will not come down quickly. Your cedar privacy fence is set with sturdy posts buried to a depth appropriate to the size and weight. We use only the highest quality, weather-treated lumber for every installation. Your fence will come with added protection against the weather, and we do recommend regular staining and sealing service for your wood fence or wood deck to ensure your wood has a long, healthy life.
Hutchinson Fence Contractor
If you'd like to work with an excellent local company for your new cedar fence installation, give Hutchinson Fence & Deck Company a call. Our friendly fence designers are standing by to schedule an appointment with you for a Free Quote. We will measure the space for your new fence, determine if trees or root systems are in the way, calculate for elevation and other obstacles, and provide you with an accurate quote for your project free or charge. We offer 100% up-front, haggle-free pricing. Our prices are competitive, and our quality is unmatched.
If you're a business owner and are interested in a Commercial Fencing solution for your business or commercial property, we handle that as well. While Cedar is a popular option for both residential and commercial application, business owners may also be interested in steel fencing.
Regardless of your needs, if you'd like to work with a great Fence Contractor and Deck Builder in Hutchinson, please give us a call at 620-798-4455