Chain Link Fences in Kansas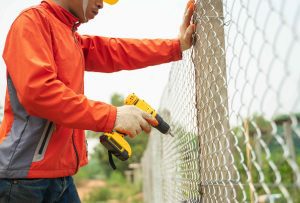 Looking for a chain link fence contractor in Hutchinson, KS? Look no further than Hutchinson Fence & Deck Company. Hutchinson Fence & Deck connects you the best local fence contractor for chain link fence and privacy fence installation in Hutchinson. We serve customers in Hutchinson, South Hutchinson, Nickerson, Sterling, Buhler, Willowbrook, The Highlands, Burrton, Castleton and the surrounding areas in Reno County.
Our chain link fence is treated against the harmful effects of the weather through a galvanization process that protects against rust and moisture. Options include vinyl coated chain link fence that comes in red or black. The vinyl coating on the chain link fencing provides additional protection against the weather and color options that customers are fond of.
Chain Link Fencing Installed Hutchinson, South Hutchinson KS
Chain link fence is a great option for customers seeking an affordable, sturdy fence that will keep their property secure and last for years to come. Chain link fencing installations go up quickly and are a great option for many customers in Hutchinson.
If you'd like to keep your yard secure for pets and children while still being able to keep an eye on things, a new chain link fence may be just what the doctor ordered.
Chain Link Fence Contractor Reno County Kansas
If you'd like to get a Free Quote on a new chain link fence installed in Hutchinson, South Hutchinson, Nickerson, Buhler, or the surrounding areas in Kansas, give our friendly fence contractor a call at 620-798-4455