Vinyl Fencing Hutchinson KS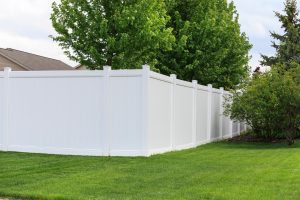 Vinyl Fencing is a great option for customers seeking a maintenance free solution to privacy fencing. A vinyl fence is very popular option for our clients in Hutchinson, South Hutchinson, Abbyville, Sterling, Yoder, Burrton, and the surrounding areas in Kansas. Vinyl Fencing is pretty to look at, is not harmed by moisture, does not attract pests, and is not damaged by UV light.
Many customers prefer vinyl fencing over wooden fences simply because of those perks. A wooden fence is subject to rot, termites, damage from moisture and UV light, and must be stained and sealed in order to maximize the life. A vinyl fence is not subject to any of those problems, but vinyl fencing is more expensive than wood and is not as strong as wood. It does hold up nicely with standard use, and our installations come backed by a warranty.
Hutchinson Vinyl Fence Builder
Would you like a new vinyl fence built for you in Kansas? Do you need a new vinyl fence installed in your backyard? Do your pets need to be corralled behind professionally installed vinyl fencing in Hutchinson, South Hutchinson, or Nickerson? Contact Hutchinson Fence & Deck Company for a Free Quote on a new Vinyl Fence today.
Our fence pros are standing by at 620-798-4455