Swimming Pool Fencing Hutchinson KS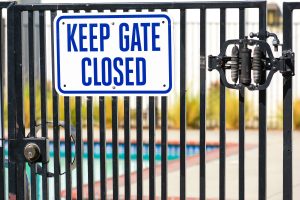 Swimming Pool Fencing is vital to keeping your pool area safe and secure. Many cities and townships require a sturdy swimming pool fence as part of local building codes. If you'd like to hire an experienced Fence Contractor in Hutchinson to install your new swimming pool fence for you, please give Hutchinson Fence & Deck Company a call today. Call 620-798-4455
Swimming Pool Fence South Hutchinson, Sterling, Nickerson, Buhler
Swimming Pool Fencing is typically a black aluminum fence that surrounds the outer parameter of your pool with a locking gate attached. Children and pets are kept safe beyond the barrier of the fence, and access is limited to the keyholder. Other fencing options are available for swimming pool fencing, from Wrought Iron Fence to Chain Link Fence to Steel Fencing or something else. If you'd like to hire an experienced fence contractor in Kansas that cares about quality and reliability, we hope you'll give us a call today or fill out the Free Quote form on this website.
Hutchinson Fence & Deck Company will handle your swimming pool fence installation from start to finish, from delivering fencing materials to pulling permits to dealing with the city to ensure your project is done according to to highest standards of safety and quality.
Quality Swimming Pool Fences Installed in Kansas
Secure that pool with a new swimming pool fence from Hutchinson Fence & Deck Company! We also install dog run fencing and many more styles for various applications. Hire the local pros who know a thing or two about installing a fence, and get the very best customer service around.
Call for a Free Quote: 620-798-4455
You may also fill out the Free Quote form on this website and one of our fence designers will get in touch with you soon.