Dog Run Fencing Hutchinson KS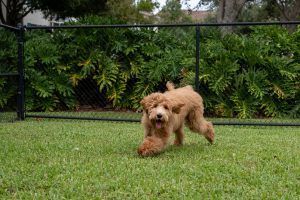 Hutchinson Fence & Deck Company is here to build your dog run fence for you! If you'd like to make your yard a place safe for pets to play and enjoy the outdoors without having to worry about them hurting themselves, contact us and get a quote on Dog Run Fencing in Hutchinson. We will build a fence for your pets to play behind the safety and security of your new dog run fence.
Custom Dog Pen Builder in Kansas
Would you like a contactor to build a new dog pen on your property? Our custom dog pens and dog run fences are built from a variety of materials, the most popular being chain link fencing. Other options are available depending on the look and style customers would like, from aluminum fencing to wooden privacy fences to vinyl fencing and more.
Dog Run Fence Installation
If you'd like to hire a professional contractor to build a new dog run fence or swimming pool fence for your pets, contact Hutchinson Fence & Deck Company and ask about our dog run fences. We can get you a Free Quote and get a time scheduled for your installation.
Call 620-798-4455
You may also fill out the Free Quote form on this website and one of our friendly fence contractors in Hutchinson will get in touch with you soon.