Aluminum Fence Contractor Hutchinson KS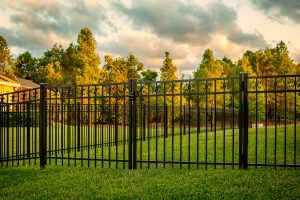 Aluminum Fencing is a popular option for customers in Hutchinson, South Hutchinson, Nickerson, Buhler and the surrounding areas in Kansas. An aluminum fence is an affordable option for fencing material giving you the look of a wrought iron fence for less. Aluminum fencing is typically a black fence that is elegant, beautiful to look at, and will keep your property secure.
Aluminum fencing comes with various options for accents and fence accessories. While planning your new fence's layout, we will need to know if you'd like to include gates, how many you'd like, whether they are single door or double door gates, and where you'd like them placed. Our aluminum fencing is available at various heights, whether you'd like a 4 foot fence, 6 foot fence, or 8 foot fence depending on customer preference.
Aluminum Fences Installed in Kansas
Would you like to get a Free Quote on a new aluminum fence from Hutchinson Fence & Deck Company? Simply fill out the Free Quote form on this website, or give our friendly contractors a call at 620-798-4455
We install aluminum fencing in Hutchinson, South Hutchinson, Sterling, Buhler, Partridge, Nickerson, Haven, Inman and the surrounding areas in Reno County.
Quality Aluminum Fencing Buhler, Nickerson, Haven
Hutchinson Fence & Deck Company is a leading supplier for aluminum fencing installation in Kansas. If you'd like to get a new aluminum fence installed on your property, whether you're a residential fencing customer or a commercial fencing customer, we are here to help!
Thank you very much for your business.